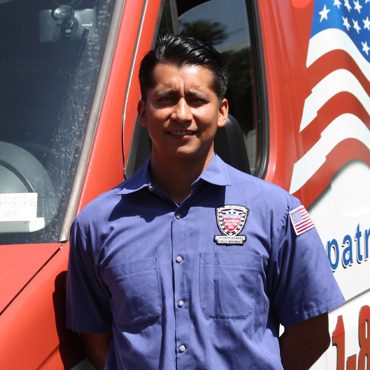 James Orellana
Hello, I'm James. I was born in California and have lived here all my life. My brother-in-law is Dino, the owner of Patriot Plumbing Rooter & Restoration. As a teenager, I was drawn to the plumbing trade. I was always fascinated by the mechanics of plumbing. I attended college and then trained in the plumbing trade. I started plumbing in 2010 and was fortunate to be hired by Patriot Plumbing Rooter & Restoration. I worked closely with Dino, who trained and supervised me through all my work. My current position at Patriot Plumbing Rooter & Restoration is Senior Service Provider.
I love my job. I enjoy many aspects of the trade such as working with my hands, reaching a resolution when dealing with challenging issues, helping others – Clients and team members, being out on the field, and seeing a project from start to finish. I particularly enjoy undertaking difficult and large plumbing jobs.
One of my passions in this industry is water filtration. I'm a great believer in providing CLEAN and SAFE WATER and it gives me great joy to know I can deliver this service by installing whole house water filtration systems to the homes of my clients. Clean water has so many benefits! Feel free to ask me about them!
My favorite pastimes are being out in nature, I love hiking and camping. I love to travel the world to explore, experience different cultures, and taste authentic foods. I also love to off-road in the mountains with my truck under all types of weather conditions. I also love bicycling and motorcycling. Family is very important to me and I very much enjoy getting the opportunity to spend time with them. I'm also very enthusiastic about gaining knowledge of my trade and new cutting technologies which have been released.
I look forward to meeting with you to resolve any plumbing concerns you may have!
Industry Certifications: Journeyman Plumber with over 10 years' experience, IICRC Certified as a Water Restoration Technician and Applied Structural Drying Technician, Picote Solutions Inc., Certified, Slab Leak Certified.
DISCLAIMER: In regards to any demo needed, the EPA (Environmental Protection Agency) requires the following:
Rule 1403 AQMD States: Before Demolition Building Materials if your home is built prior to 1986 the said materials must be tested for asbestos and if the home is built prior to 1979 it must be tested for lead and Asbestos. Building materials such as; Drywall Tile, Stucco, Linoleum & Acoustic Ceilings will be tested. For more information please click on the links below.
https://www.epa.gov/asbestos
https://www.epa.gov/lead