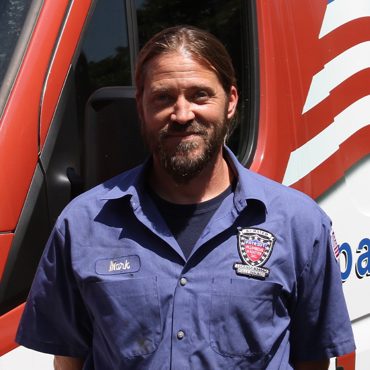 Mark Davenport
Hello there, I'm Mark. I was born and raised in the East Coast. I started my plumbing journey in 1997 and have never looked back. I left New Hampshire and moved to California in 2000. I joined the Patriot Plumbing Rooter & Restoration family in early 2003 and have been a member of the Team ever since. The position I hold is the Senior Service Provider and Crew Leader.
I love my job because I get the opportunity to meet a variety of Patriot Plumbing Rooter & Restoration Clients. I feel a great level of satisfaction when I meet the needs of each client I serve. I love having the ability to help others. I always strive to provide each client with the best level of service from the beginning of the job until completion.
I have many hobbies. When I'm not out on the plumbing field, I enjoy the outdoors. I love hiking, mountain, and cliff climbing, dog walking, parachuting, and playing volleyball. I have a dog. He's a rescue and I adore him. I'm an animal enthusiast and love being involved in animal rescue. I've saved over 300 ferrule cats over the years.
I'm happy to be of service, expect to see me if you live in the South Bay / Los Angeles Area!
Industry Certifications: Journeyman Plumber with over 22 years' experience. Perma-Liner Certified.
DISCLAIMER: In regards to any demo needed, the EPA (Environmental Protection Agency) requires the following:
Rule 1403 AQMD States:  Before Demolition Building Materials if your home is built prior to 1986 the said materials must be tested for asbestos and if the home is built prior to 1979 it must be tested for lead and Asbestos. Building materials such as; Drywall Tile, Stucco, Linoleum & Acoustic Ceilings will be tested.  For more information please click on the links below.
https://www.epa.gov/asbestos
https://www.epa.gov/lead